Step 1. Go to the Customer Portal and Log In to Your Account or Create an Account: https://thedogpawlour.gingrapp.com/customer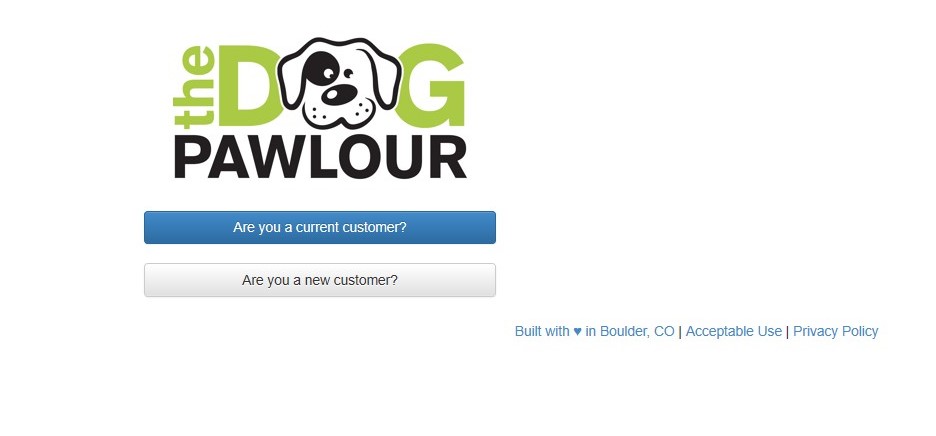 For Current Clients:Pl
https://thedogpawlour.gingrapp.com/front_end/login/email
Select 'Are you a current customer?'
Enter either your phone number or email address on file with The Dog Pawlour (this is the phone number or email address we regularly contact you with/ was provided to The Dog Pawlour as your current contact information) and click on 'Continue Logging In'.
You will then be directed to a page where you are able to create a password.

After setting up password, you will be directed to your account's homepage.
For New Clients:
https://thedogpawlour.gingrapp.com/front_end/new_customer
Select 'Are you a new customer?'
Enter in all required fields for your information and establish desired password for your account.
After saving, you will then be prompted to add pet information.
If you have multiple pets, select 'Save and Add Additional Animal'
After successfully filling in the information forms, you will be directed to the Homepage.
Your Homepage will look like this:
From here, you can:
View and edit your contact information.
Upload files such as immunization records.
Immunization Due Dates.
Securely add or remove credit cards on file.
Manage your communication opt-out preferences (email and SMS).
View and edit your pets' info, as well as add new pets.
View any photos and/or videos that have been attached to your pet's report cards by The Dog Pawlour.
Make reservation requests.
View your receipt by clicking on the "View" button next to any completed reservation, as well as any report card that was created for that reservation.
Purchase Store Credit.
Apply pre-payment to upcoming reservation estimates.
View and pay off balances from open invoices.
View your remaining credits left on packages.
Purchase new packages.
View and purchase retail items for curbside delivery and in-store pickup.
FOR ALL GROOMING APPOINTMENTS:
PLEASE WAIT TO PAY FOR YOUR SERVICES UNTIL AFTER YOU HAVE BEEN CALLED AND TOLD YOUR PET IS READY FOR PICK-UP. PAYING BEFORE HAND COULD RESULT IN REQUIRING YOUR CARD TO BE CHARGED MULTIPLE TIMES.
Step 2. To pay for grooming appointments, daycare reservations without a package, or scheduled walk in services:
Select 'My Account'
From the dropdown menu, select 'View Invoices'
You will then be taken to the Invoices page where you can view past Invoices and unpaid Estimates.
Step 3. Once you are on the Invoices Page, find your Estimate:
Select 'Estimates'

Once selected, the tab will become red.

Find the Estimate for the grooming appointment, daycare reservation, or walk in service that you are wanting to pay for.

To the left of the desired Estimate, you will see:

A blue button with an 'i'
Select this option to view a detailed breakdown of your Estimate.
A green button with a '$' sign

Select this option to apply payment without viewing a detailed breakdown of the Estimate and skip Step 4.
Step 4. If you select the blue 'i' button, you will be taken to a detailed breakdown of the Estimate for the services you are looking to pay for.
After reviewing, you can select the green button that says 'Apply Payment' to proceed with paying for your services.
(If you have questions on your estimate and would like clarification or help before proceeding with payment, feel free to call the location in which your pet's service is taking place. We are happy to help!)
Step 5. Once you are ready to proceed with payment, and have selected either the green button with the '$' sign or the 'Apply Payment' button, you will be prompted to enter payment information.
Securely enter your credit card information.
Select 'Use This Card'
Select 'Pay Now' to process your payment.
If you have already saved your card information on file, you can select the 'Use Card on File' box and then select 'Pay Now' to process your payment.